You can view some of the most beautiful mountain ranges, vistas, and forests in the Smoky Mountains in Western North Carolina. You will experience winding roads, breathtaking views, mountain rivers, waterfalls, sunrises, sunsets, wildlife, floral, and hiking trails. Scenic drives feature byways, skyways, national park roads, and the Blue Ridge Parkway. Smoky Mountain scenic drives will be one of the most memorable highlights of your visit to Maggie Valley.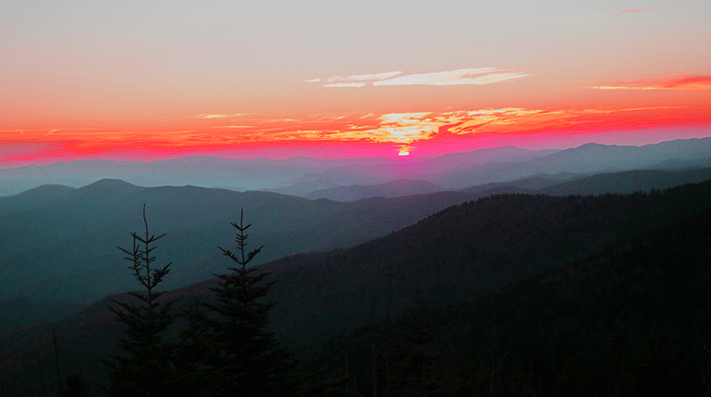 Sunset at Clingmans Dome; image by Jeaneane Payne

Great Smoky Mountains National Park
The drive into Great Smoky Mountains National Park begins in Cherokee, just 20 miles east of Maggie Valley. From Hwy 441 (Newfound Gap Road) you will pass the Mountain Farm Museum at the Park's Oconaluftee Visitors Center and Mingus Mill, a large water-powered mill for grinding corn. The road winds through the mountains, with a side trip to Clingmans Dome, the highest peak in the Smokies. At the halfway point you enter the border of North Carolina and Tennessee. As you drive further on Hwy 441, you will arrive at Newfound Gap where the Park was dedicated by President Theodore Roosevelt in 1940. The views are awesome here. The drive from Cherokee to Newfound Gap is approximately 20-25 minutes.

Cades Cove
If you have the time, you will want to venture on over to Cades Cove. From Newfound Gap follow Hwy 441 (Newfound Gap Rd) 13 miles to Sugarlands Visitors Center and take a left. You may return the way you came, or in summer take the "back way" home by way of Parson's Branch (accessible in Cades Cove), a one-way road south that brings you to Highway 28 west of Fontana Dam. The drive from Newfound Gap to Sugarlands is approximately 15-20 minutes. From Sugarlands to Cades Cove is 20-25 minutes. The 11 mile drive through the Cove usually takes anywhere from 1-1/2 hours to 3 hours depending on how often you stop to see historic structures, wildlife, or take a hike.

Fontana Dam
Fontana Reservoir provides 238 miles of shoreline and 10,230 acres of water surface for recreation activities. From Maggie Valley, go west on U.S. Highway 74 toward Murphy, N.C. After about 8.3 miles, turn right on N.C. Highway 28. Go north about 21.3 miles and turn right on County Road 1245 (Fontana Dam Road). Continue about 1.3 miles to the dam. The total driving distance from Bryson City is about 32 miles. Estimated travel time is about 45 minutes.

Nantahala Gorge
"From the heights of Wayah Bald's 5,385-foot summit and its surrounding mountain peaks in this region of Nantahala National Forest, waters flow down from mountain slopes, gathering in the highest mountain lake in North Carolina, Nantahala Lake. From there, these gathered waters flow northward down a natural drainage path, thru the narrow Upper Nantahala Gorge and pass the powerhouse before taking a sharp right turn into what is known as the Nantahala River Gorge." theblueridgehighlander.com

Blue Ridge Parkway
The Blue Ridge Parkway is accessible at the entrance to Great Smoky Mountains National Park just outside of Cherokee, NC, approximately 21 miles from Maggie Valley. A 26 mile drive from Cherokee to the Balsam Mountain exit will offer you breathtaking views of the Appalachian Mountains. For your convenience, there is a visitor information center at Water Rock Knob and a comfort station. Experience a spectacular sunset at the summit which is a one-mile hike.

NC Highway 28 South
This scenic 21-mile ride between US 19/74 is just west of Bryson City and Franklin NC.

NC Highway 28 North
Hwy 28 through Stecoah to Deal's Gap. This 22-mile stretch is known as the "Hellbender". From Johnson Gap (Hwy 143) to Deal's Gap is a favorite of motorcyclists.

Deal's Gap (Tail of the Dragon)
U.S. Highway 129, an eleven-mile section with 318 continuous curves, is world-famous among motorcyclists and sports car drivers. Riding The Dragon at Deals Gap you closely follow an old Indian trail from Graham County NC to Fort Loudon TN. There are beautiful views of the river along the way to Chilhowee Lake.